Magnets with central button
THE 5 STRENGTHS
1. 2 YEARS WARRANTY
At the dalivary of the magnets we will give a two years written warranty certificate.
---
2. RECTIFIED SURFACE
The part of the magnet in contact with the surface of casting mould is rectified to increase its force.
---
3. PROTECTED MAGNET
We protect our magnets with resins and special ties in INOX steel for prevent the magnet to create 2 apposite magnetic fields with decreasing of performances.
---
4. STANDARD HEIGHT
Tha standard series of magnets has a constant height of ornly 47mm; this allows an easy interchangeabilty. For lowered heights we realized special magnets.
---
5. SLIGHT MAGNETIC INTERFERENCE
Once tha magnet is placed on tha casting mould you tali a slight interfe- rence. For this factor it's difficult that the magnet moves and helps to keep it in the vertical direction with one hand.
---
COD. 135.60.46
| | |
| --- | --- |
| Traction | 300 Kg |
| Height of the activated magnet | 78,5 mm |
| Height of the deactivated magnet | 84 mm |
| Hole diameter | M14 |
| Weight́ | 2,0 Kg |
COD. 135.120.46
| | |
| --- | --- |
| Traction | 750 Kg |
| Height of the activated magnet́ | 78,5 mm |
| Height of the deactivated magnet́ | 84 mm |
| Hole diameteŕ | M14 |
| Weight́ | 3,3 Kg |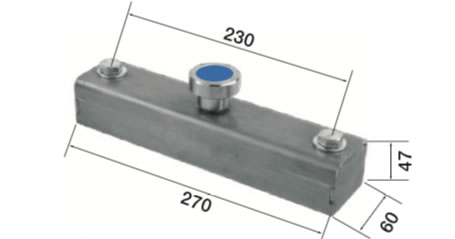 COD. 270.60.47
| | |
| --- | --- |
| Traction | 900 Kg |
| Height of the activated magnet | 79,5 mm |
| Height of the deactivated magnet | 86 mm |
| Hole diameteŕ | M14 |
| Weight́ | 4,4 Kg |
COD. 365.66.47
| | |
| --- | --- |
| Traction | 1200 Kg |
| Height of the activated magnet́ | 79,5 mm |
| Height of the deactivated magnet́ | 86 mm |
| Hole diameteŕ | M14 |
| Weight́ | 4,6 Kg |
COD. 270.112.47
| | |
| --- | --- |
| Traction | 1800 Kg |
| Height of the activated magnet́ | 79,5 mm |
| Height of the deactivated magnet́ | 86 mm |
| Hole diameteŕ | M14 |
| Weight́ | 6,3 Kg |
COD. 365.120.47
| | |
| --- | --- |
| Traction | 2100 Kg |
| Height of the activated magnet́ | 79,5 mm |
| Height of the deactivated magnet | 86 mm |
| Hole diameteŕ | M14 |
| Weight́ | 9,1 Kg |